Established since December, 1986 by Lacquer painter Pham Kim Ma (). 
Biography of Mr. Pham Kim Ma: 
Graduating from the Traditional Art Department, Lacquer Specialization, Vietnam University of Industrial Art.



I. The professional jobs:
+ Create lacquer paintings.
+ Create and produce lacquer products.
Research and restore lacquer, gold trimmed red lacquer religious products such as Buddha statues, Altars, etc...
II. The main rules and objectives of operation:
+ Be grateful to the pioneers of lacquer, respect the teacher - student, friend relationship.
+ Be faithful; enhance the prestige and jobs morals.
+ Be modest and ardour in creation, concentrate on \studying new styles in the creation of lacquer paintings and products for daily life.
Since 1986, lacquer painter Pham Kim Ma has taught many Vietnamese and foreigners to create lacquer ware using traditional methods.
In 1991, KIMA and Mr. Jean-Mar Bonnamy (French nationality, former Director of UNIDO in Vietnam) jointly wrote a book named Vietnam Lacquer.
To study and exchange knowledge, in 1998, KIMA sent its workers to learn lacquer joining WAJIMA LACQUER WARE OMUKAI KOSUDO Co. Ltd., in Wajima, Japan. KIMA paintings and products were collected by many foreigners and also has been recommended and sold in France, Japan, the USA, etc…
Especially, to Japan, KIMA have exported its goods to Tokyo and Kyoto market…These goods include many unconventional and work pieces of high artistic value such Japanese-style religious products as Mikoshi… Also, KIMA create and design useful – for - life art products such as lacquer bowls and trays, tureens, boxes …Besides lacquer goods, KIMA have also produced and exported rare wooden product (Japanese-style tea table, wardrobe, chair…), and many other fine art products to Japan.
Highly appreciating the importance of people's health, we are extremely strict in selecting natural material used in our production and absolutely do not use any chemical substances that are harmful for both man and the environment.
KIMA products have won a lot of international awards:
+ In 2003, the KIMA lacquer box awarded the UNESCO-AHPADA SEAL OF EXCELLENCE.
+ In 2004, the KIMA lacquer round tray and flower vase awarded the UNESCO-AHPADA SEAL OF EXCELLENCE.
+ Also in 2004, the KIMA lacquer square tray set awarded the GOOD DESIGN AWARD ASEAN SELECTION 2004 G-MARK of G-mark Japan Organization (www.g-mark.org).
+ In 2005, two KIMA lacquer products of tureen and plate awarded the UNESCO-AHPADA SEAL OF EXCELLENCE
+ In 2006, KIMA lacquer product of Fruit and Wine Lacquer Bowl awarded the UNESCO-AHPADA SEAL OF EXCELLENCE.

KIMA apply special technology for the production of traditional lacquer products. Actually, the product is a work of art that is assessed by international-ranking quality (it has won a great deal of international awards and been acknowledged about quality, style and artistry by many foreign experts). The traditional lacquer product line is made of natural raw materials. The production process requires cleverly lacquer resin making and complicatedly decorating techniques. It takes man-power and an interval of 4 to 6 months 'till the product is finished. In comparison with the new-style lacquer products using industrial paint with simple process and very short time period (about 15 to 45 days), the quality of KIMA traditional products is better and able to put up with cruel climate of different countries. Its longevity may be prolonged for several decades or even longer.
In the recent years, after a survey on traditional art, some international organizations has concluded that, perhaps, there is only KIMA following the traditional method in producing his products in Vietnam, which is a good sign for us as KIMA traditional products are hard to be imitated and copied. Therefore, KIMA products embrace distinct characteristics recognized only by those who really love and have thorough knowledge of Vietnamese lacquer.
KIMA, in cooperation with UNESSCO in Hanoi, frequently open Lacquer's vocational training classes for children in danger of homelessness. These classes aim at providing them with experience and helping them become useful people for the society. Recently, the traditional lacquer profession in Vietnam has sunk into oblivion and the number of artisan-artists who follow the traditional-styles has reduced. Therefore KIMA have paid much attention towards the investment of training skilled workers. Many workers have been sent to study at Vietnam Industrial Art University. These workers will be active for KIMA lacquer art now and in the future.
KIMA truly give special thanks to the individuals, organizations and customers who show interests in and give support to genuine lacquer art. KIMA are always looking forward to the cooperation, support and vocational exchanges with domestic and foreign organizations. With these activities, KIMA desire to contribute a little in the preservation and enhancement of Vietnamese traditional lacquer.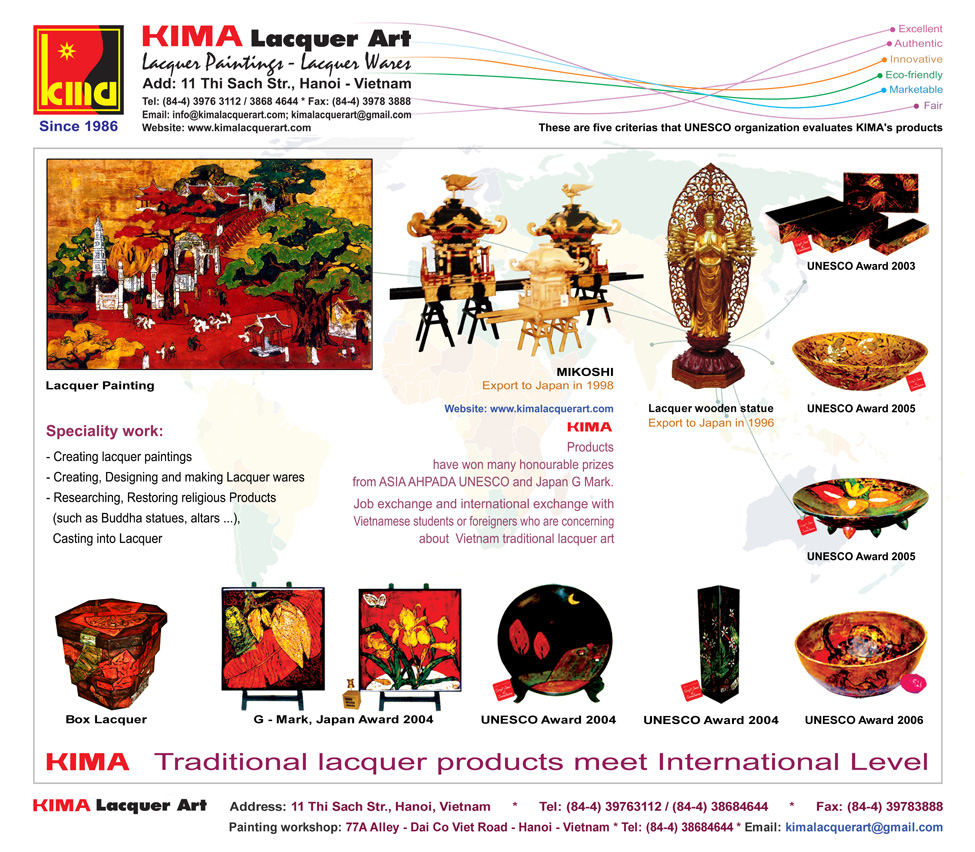 The video introduces a small part of the KIMA Lacquer Art
produced and broadcast by Vietnam Digital Television (VTC)